It is that time again... are you ready for the party?
First I would like to recap what I have been up to since the last party.
I did a feature post on "The Dedicated House" Kathryn was my button swap partner for August.
Read feature post here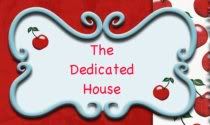 I did a little lamp make over
I did 3 projects with paper & glue
I received wonderful gifts from a friend
We had our "Crazy Day"
Then we retraced our steps ,from our crazy day ... and got some amazing photos:)
Sharing this post here :)
Here is the
This party is a monthly button swap party. It works like this, everyone interested in joining the party will add their blog button. You will have 7 days to do so. When party closes, I will randomly select two blog buttons at a time & pair 2 partners up, I will post the partners that will be swapping buttons on my next post.(I may also feature some of the blogs)
Partners will be swaping buttons with eachother for one month.
You should make a post telling everyone who your months swap partner is and display their button in the post and on your side bar. (If it is ok with your partner, you may want to share some photos or posts from their blog)(get as creative as you like)Your partner will do the same for you. Click HERE to see an example of a swap partner post.
I ask that your blog be dedicated to decor, thrifting,food, vintage and all things closley related.
Party will take place the first of every month.