Hi everyone! I am excited to introduce you to Kathryn From the Dedicated house. I was thrilled when I received her as my
button swap
partner for the month of August. Kathryn is a lovely, creative wife and mother to an adorable little girl.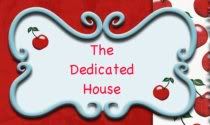 One of the first things you will notice when visiting her blog (The Dedicated House) is the cheerful look. My grandmother used to tell me stories about when she was younger and raising her kids ,that she painted her kitchen all white and painted cherries around the top. That is what I thought of when I first visited. You can grab a little of that cheerfulness in button form, because Kathryn hosts a lovely link party every Monday. You can find the button code on her sidebar.
You will see me partying there often:)
I'm sure many of you know her , but for those of you that have never been over to visit her blog, I encourage you to go. There is so much to see... such as the weekly features from Mondays party,Room makeovers and creative projects to name a few.
I really enjoyed the teacup room, an absolutely adorable bedroom for her little girl. The transformation on her kitchen cabinets is amazing.
Kathryn has a recap of what she has been up to over the past year in her post
Where Has the Year Gone?
I think you will enjoy going through all the things she has been up to. I know I did.
I am
absolutely
in love with this table makeover! Kathryn if you and the hubby can't come to an agreement over its placement ... I'll be happy to take it off your hands :)
Just look at the gorgeous details of this piece and the beautiful finish.
I hope you all enjoyed a sneak peak inside of the dedicated house and I hope you will visit for a closer look and tell Kathryn to give me her table.... I'm just kidding... Just kidding. No really stop by and say hi I'm sure you will be glad you did.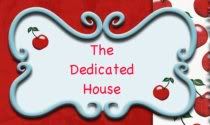 Sharing this post here :)